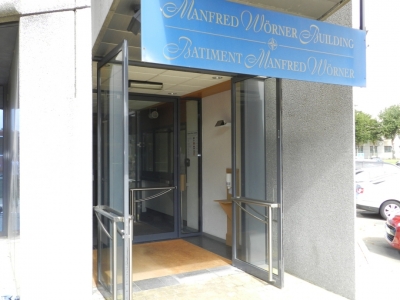 Manfred Worner Building, NATO HQ, 1110 Brussels, Belgium
Phone: +32 2 707 79 81
E-mail:
Photographic presentation of Serbia, author Dragoljub Zamurović

EVENTS

SEEGROUP delegation visited the Republic of Serbia

Brusels, 31 October 2018 - A group of 20 diplomats, representatives of the participating countries of the SEEGROUP, chaired by the Serbian Mission to NATO in 2018, visited Belgrade from 16 to 19 October 2018. SEEGROUP is an informal forum for security and political consultations on topics of significance for the region of Southeastern Europe, which brings together representatives of NATO member states, partner countries from the Western Balkans region, as well as Western European partners of NATO. Briefings at the Ministry of Foreign Affairs and the Ministry of Defense were organized for the SEEGROUP delegation. Assistant Minister, Ambassador Branimir Filipovic hosted a dinner in honor of the delegation. During their stay in Belgrade, the delegation took part in the 8th Belgrade Security Forum.

Successful international field exercise for managing the consequences of emergency situations "SRBIJA 2018"

Brussels, 30 October 2018 - From 8 to 11 October 2018 in Mladenovac, an international field exercise was held to manage the consequences of emergency situations "SRBIJA 2018", jointly organized by the Euro-Atlantic Disaster Response Coordination Centre (EADRCC) and the Sector for Emergency Management of the Ministry of Interior of Serbia. At the exercise, which was mutually assessed as very successful, 38 countries participated with a total of 2,000 participants. The exercise was opened by the President of the Republic of Serbia, Aleksandar Vučić, and NATO Secretary General Jens Stoltenberg. The exercise enabled the civil structures of state bodies dealing with the protection and rescue area to work together with teams from different countries to test their capacities in order to provide a unique response in emergency situations. The organization of the exercise is an indicator of improved cooperation between the Republic of Serbia and NATO within the framework of the "Partnership for Peace" program.

Ambassador Udovicki met with Serbian National Assembly delegation

Brussels, 31 May 2018 - Ambassador Udovicki hosted today a high-level delegation from National Assembly of the Republic of Serbia within the framework of their study visit to EU and NATO institutions in Brussels, organized by the OSCE Mission to Serbia. During the meeting, ambassador Udovicki briefed Serbian MPs about partnership cooperation between the Republic of Serbia and NATO. In addition to the visit to the Mission of the Republic of Serbia to NATO, the members of the Serbian National Assembly delegation met with the representatives of the NATO Political Affairs and Security Policy Division (PASP) and Public Diplomacy Division (PDD).