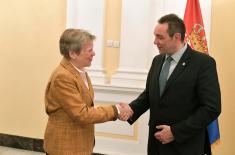 Belgrade, 12. October 2017 - Defence Minister Aleksandar Vulin has met today with NATO Deputy Secretary General Rose Gottemoeller, in Belgrade.
During the talks, Minister Vulin emphasized that the Republic of Serbia is determined to lead a balanced defence policy and therefore cooperates with both the East and the West
- We are constantly working on improvement and further qualitative development of relations with all countries and international organizations, in accordance with the defined national interests and foreign policy priorities, the minister of defence said and thanked Ms Rose Gottemoeller on her personal contribution to improving cooperation under the auspices of the Partnership for Peace and her understanding of the position of the Republic Serbia.
Minister Vulin emphasized that Serbia wishes to be a reliable, predictable and serious partner of all actors in the international political and security scene who are interested in deepening relations on the basis of mutual respect, mutual interest and the improvement of regional and global security. He assessed that participation in activities under the auspices of the Partnership for Peace for the Republic of Serbia represents an optimal framework for achieving security goals and improving defence capacities, while respecting the policy of military neutrality.
The Minister of Defence emphasized that KFOR is the only partner of the Serbian Armed Forces in securing the administrative line and the only guarantor of security in the territory of Kosovo and Metohija, as well as the protection of our national, cultural, historical and religious heritage. Any solution to the dialogue between Belgrade and Pristina must be in accordance with the Constitution, UN Security Council Resolution 1244, the Military Technical Agreement and other documents determining the channels of communication and procedures in the field, Minister Vulin concluded.
Source: www.mod.gov.rs