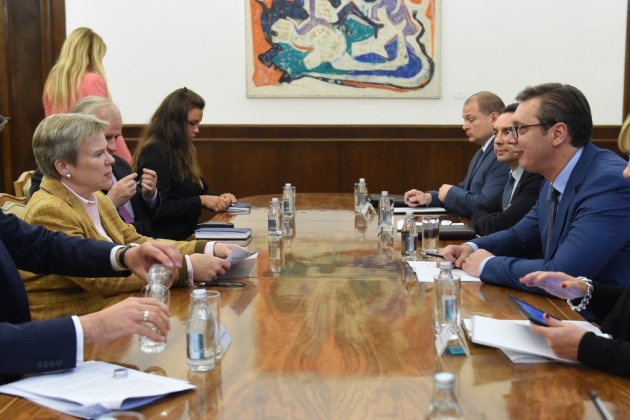 Belgrade, 12 October 2017 - President of the Republic of Serbia, Aleksandar Vučić, met today with NATO Deputy Secretary General, Rose Gottemoeller, with whom he discussed the mutual political dialogue, forms of practical cooperation and President Vučić's upcoming meeting with NATO Secretary General Jens Stoltenberg.
President Vučić emphasized that cooperation between Serbia and NATO had improved significantly and that mutual trust had been increased. He stressed that Serbia was a militarily neutral country, without intentions to change that status, but that it was also firmly resolved to cooperate with the Alliance within the Partnership for Peace programme, with the aim of preserving lasting peace and security in the region.
"During the past 11 years of In 11 years of participation in the Partnership for Peace programme, Serbia has accomplished significant cooperation with the NATO member states and partner countries, while implementing the best experience and standards in the modernization and strengthening of its armed forces and defence capacities", President Vučić added.
Deputy NATO Secretary General Gotemeler reiterated the attitude of the Alliance to accept Serbia's determination to be militarily neutral, not seeing anything disputable in that regard, and that this it does not represent an obstacle to the development of cooperation with Serbia in a number of fields.
President Vucic said that it was extremely important for NATO to continue with its principled and status-neutral approach to Kosovo and Metohija, and stressed that NATO was an unavoidable factor of regional stability, and that KFOR is a very important factor of security and survival of the Serb community in Kosovo and Metohija, and of the preservation of Serb cultural and historic heritage. Another topic of the talks was the realisation of the initiative for using the Trust fund for demining and destruction of cluster bombs in Serbia, which will be carried out with the help of the Dutch Government.
Source: www.predsednik.rs