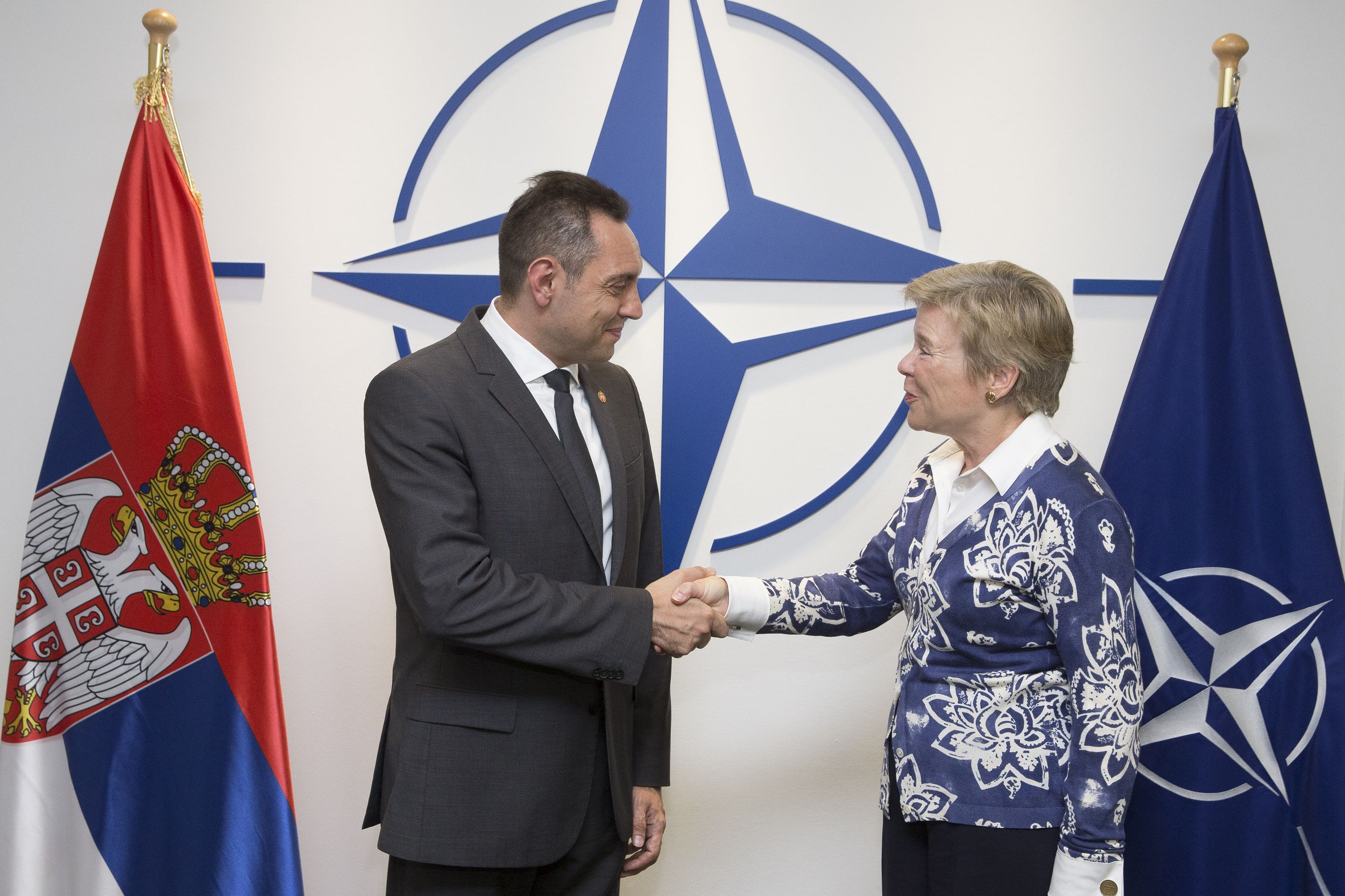 Brussels, 22 September 2017 - Minister of Defence Aleksandar Vulin has visited today NATO headquarters in Brussels, where he met with NATO Deputy Secretary General Rose Gottemoeller, and Assistant Secretary General for Defence Investment Camille Grand.
In his conversation with NATO Deputy Secretary General Ms. Rose Gottemoeller he exchanged views on the political and security situation in the region, as well as the current issues of cooperation under the Partnership for Peace Programme and the cooperation between the Serbian Armed Forces and KFOR. Minister Vulin thanked his interlocutor for the efforts she is making on the overall stabilization of the security situation, as well as for the support and understanding of the position of the Republic of Serbia in the region and beyond.
- I once again repeated to our hosts that Serbia is not interested in becoming a member of the NATO Alliance or any other military alliance, that it will continue with the policy of military neutrality, but we will take care to improve our cooperation with the NATO Alliance through the Partnership for Peace, to continue it and that take everything that is useful for our country and for our military. We accept everything that will make our army develop better, progress, but also everything that benefits our country and our people, Vulin said.
During the talks with the NATO Deputy Secretary General, the Minister of Defence also thanked NATO for its participation in KFOR and said that Serbia cannot at all accept the formation of the Kosovo Armed Forces.
- We consider it a security threat and a big problem for the entire region, but we strongly support KFOR and the role of the NATO Alliance in it, and we consider that the role of KFOR cannot be reduced in any way and in no way should the lack of its influence be felt in the territory of Kosovo and Metohija.
Ms Gottemoeller particularly thanked President Vučić for the courage with which he is leading Serbia and the courage with which he is conducting the internal dialogue on Kosovo and Metohija. His role is appreciated very much here and everybody highly respects our position of military neutrality and our position that we will always maintain a balanced policy when it comes to relation towards the NATO Alliance and any other military alliance, Vulin said.
In a separate meeting with Assistant Secretary General for Defence Investment Camille Grand, Minister Vulin conveyed our country's commitment in the process of normalizing civilian air traffic over the Balkans. He stressed the necessity of continuing further talks aimed at finding mutually acceptable solution in the said process, which should be based on United Nations Security Council Resolution 1244 and the Military Technical Agreement. The improvement of air traffic safety and control in this area should be a priority in this joint venture, the minister underlined.
Source: www.mod.gov.rs