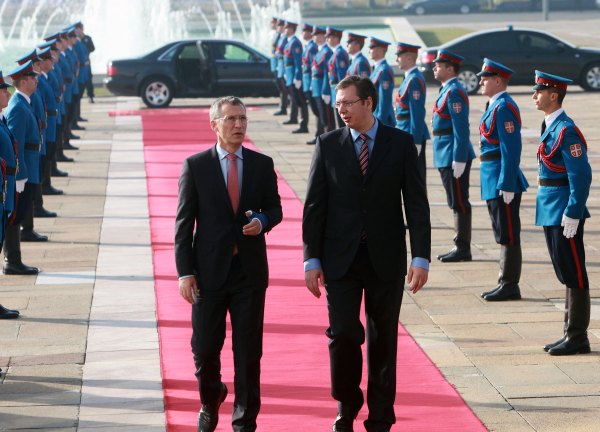 Belgrade, 20 Nov 2015 – Prime Minister Aleksandar Vučić met today with NATO Secretary-General Jens Stoltenberg and pointed out that Serbia is a sovereign and militarily neutral country which will continue to promote good cooperation with NATO.
Vučić said at a joint press conference with Stoltenberg held at the Palace of Serbia that our country will adhere to its parliamentary declaration and decisions on military neutrality, but that it has a broad scope for the improvement of cooperation with NATO. This cooperation contributes to the fight against terrorism, support in the migrant crisis, preservation of regional stability, better training of soldiers and policemen, but also to much greater security of our people in Kosovo-Metohija, which is the most important, the Prime Minister explained. He noted that NATO and Serbia still do not have to agree on certain issues from the past, but it is certain that there is a good future in mutual relations.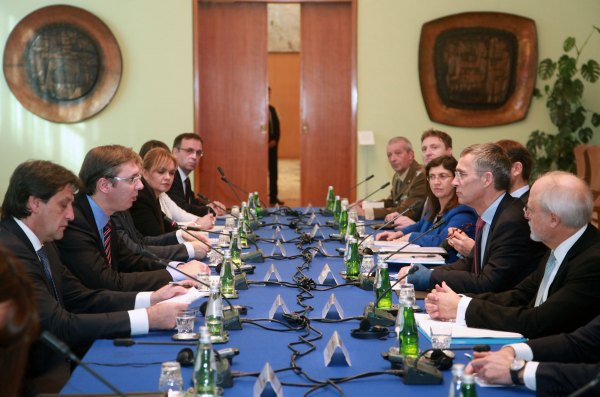 Stoltenberg stated that the KFOR today lifted restrictions that had applied to parts of the airspace of Serbia, introduced in 1999, which, he said, is a concrete expression of relations between NATO and Serbia. He explained that this means a full integration of Serbia into the airspace of Europe, noting that this decision is based on the commitment of Belgrade to normalisation of relations with Pristina. Every life that was lost during the NATO intervention in 1999 was a tragedy, which we deeply regret, Stoltenberg underlined and expressed his condolences to the families on both sides of the conflict and to those who have lost their loved ones. I am here today in connection with the new beginning of relations between NATO and Serbia. This is more important to us than ever because we are faced with many common challenges, he underlined, noting that the cooperation is of mutual benefit. According to Stoltenberg, the partnership plan offers many opportunities for cooperation, and NATO is prepared to open a new fund to help Serbia to destroy 200 tons of surplus ammunition.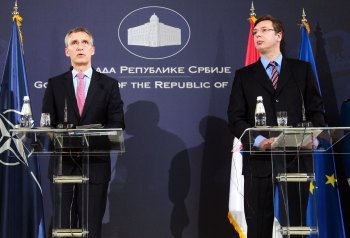 As NATO Secretary General, I strongly believe in the potential of the relationship between this military alliance and Serbia, respecting the neutrality policy, Stoltenberg reiterated and added that he is happy because of the development of relations and the political and practical cooperation between NATO and Serbia. Serbia, he stated, plays an important role in building security in the Balkans and around the world, and in welcoming thousands of refugees, and also as the OSCE chair country and by sending troops to the missions of the UN and the EU. The Belgrade-Pristina dialogue is very important and is the only way to go ahead, the NATO Secretary-General said and praised the important steps that have been achieved in the promotion of Serbia's cooperation with its neighbours.
Vučić received the NATO Secretary-General this morning in front of the Palace of Serbia together with the Guard of the Serbian Army. During the day, Stoltenberg will also speak with First Deputy Prime Minister and Minister of Foreign Affairs Ivica Dačić and Minister of Defence Bratislav Gašić. Later today, Vučic and Stoltenberg will give a lecture to students of the Faculty of Political Sciences in Belgrade on the topic "Security in contemporary Europe".
Source: www.srbija.gov.rs