Belgrade, 20 Nov 2015 – Prime Minister Aleksandar Vucic said today that it is extremely important for our country to improve its relations with NATO as we are facing three major problems right now – terrorism, regional stability and the refugee crisis.
Speaking before students at the Faculty of Political Sciences in Belgrade together with NATO Secretary General Jens Stoltenberg, Vucic said that Serbia is not afraid of hard work and reforms and that it will have an economic growth greater than 2% and will emerge out of recession in 2016.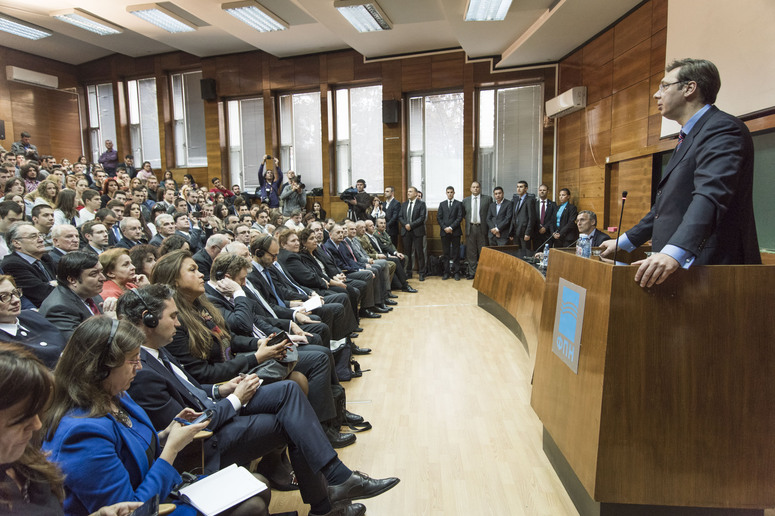 What causes concern, however, is the risk of destabilization in the region and the country, and it is here that cooperation with NATO is important, said Vucic, adding that bad relations with NATO can harm us and cause problems in economic development and the rule of law.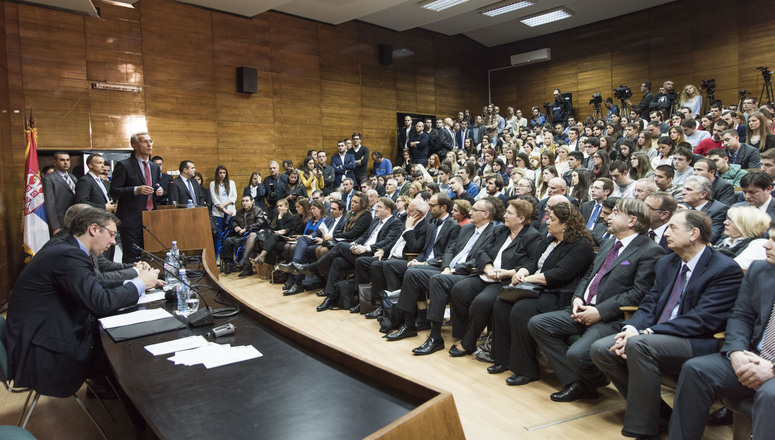 The Prime Minister stressed that it is time for cooperation, after 16 years of continuous development of hatred and bad attitude towards those who from our point of view did bad things, while they look at it a little bit different. Serbia is oriented to the future and what it can do for generations to come, said Vucic.
NATO Secretary General Jens Stoltenberg strongly supported the efforts of Serbia towards EU membership, stressing that his visit is a strong expression of cooperation between Belgrade and NATO.
Source: www.srbija.gov.rs
Additonal informations:
(VIDEO) - Opening remarks by NATO Secretary General Jens Stoltenberg at the Faculty of Political Science at the University of Belgrade (Published on 20 November 2015 - NATO YouTube channel)
(VIDEO) - Questions & answers session with Prime Minister Aleksandar Vučić and NATO Secretary General Jens Stoltenberg at the Faculty of Political Science at the University of Belgrade (Published on 20 November 2015 - NATO YouTube channel)