President of the Republic of Serbia, Aleksandar Vučić met tonight in Brussels with the NATO Secretary-General Jens Stoltenberg to discuss many regional issues as well as the relations between Belgrade and Priština. President Vučić pointed out he was very satisfied with the content of the talks and thanked for the principled position on the issue of preserving peace and stability.
"These are very important talks for Serbia. We received a clear answer from the Secretary-General, who emphasised the importance of KFOR. I think it will lead to calm in the hearts of the people, not only in Kosovo and Metohija but in the entire region", he said.
President Vučić added that Serbia is fully committed to the dialogue process and that it will do its best to reach a compromise solution. President Vučić said that he had discussed with NATO Secretary-General Jens Stoltenberg various issues important for the entire region, as well as issues regarding Kosovo and Metohija and that he was satisfied because he had received exceptional answers.

"I can say that I am very satisfied with Stoltenberg's statement that he respects the neutrality and sovereignty of Serbia. We were not encouraged, let alone forced by Stoltenberg to act differently and we consider ourselves partners", he said.
President Vučić thanked the NATO chief for always being ready to discuss all major and important issues with Serbia and for always being open. "Serbia will remain neutral and will preserve its neutrality. That does not mean that we will not increase the level of our joint activities. I am completely sure that we can achieve more and that we can cooperate more in the future", said President Vučić, emphasising that Stoltenberg understands the situation in the region and Serbia well and that he is aware of all our problems and how to deal with them.
NATO Secretary-General Jens Stoltenberg said that NATO is committed to peace and stability in the Western Balkans and has been making efforts in that area for decades. He said that the North Atlantic Alliance is committed to the KFOR mission, which provides a safe environment and freedom of movement in Kosovo and Metohija.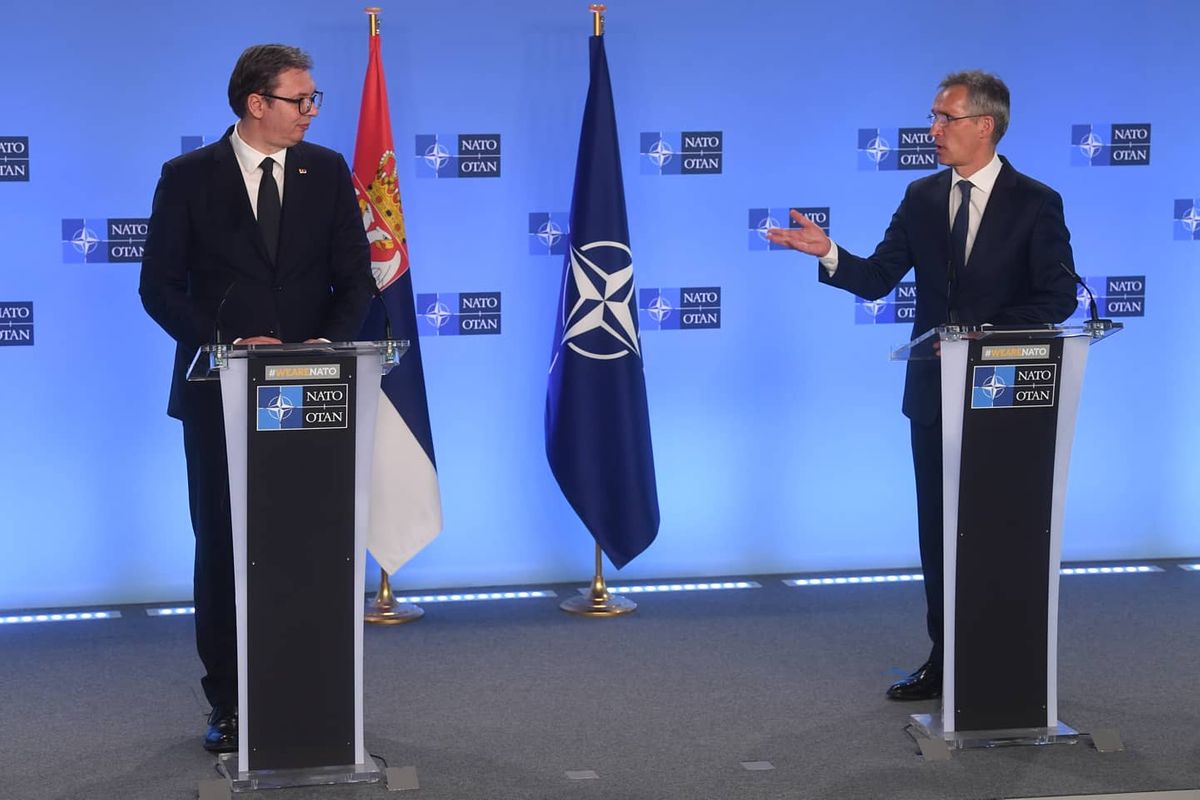 He added that the Alliance supports the process of normalisation of relations between Belgrade and Priština, emphasising that dialogue is the best platform for finding solutions that respect the rights of all communities to achieve lasting peace, which guarantees a prosperous future for all.
Stoltenberg noted that NATO is committed to a strong partnership with Serbia, emphasising that the Alliance respects Serbia's military neutrality.
"Our cooperation has brought great benefits and I hope for the continuation of the partnership," the NATO chief said.
Source: www.predsednik.rs
Photo: Dimitrije Goll