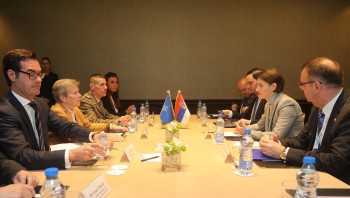 Belgrade, 12. October 2017 - Prime Minister Ana Brnabic talked today with NATO Deputy Secretary General Rose Gottemoeller and on this occasion expressed satisfaction with the pace of development of political dialogue of Serbia and NATO.
Brnabic underlined that Serbia remains military neutral, but that it is ready to develop cooperation with the Alliance within the Partnership for Peace programme, and that it is dedicated to the implementation of joint projects.
She added that during its participation in the Partnership for Peace programme, Serbia has made significant cooperation with NATO member states and it applies the best experiences and standards in the modernization and strengthening of its armed forces and defence capacities.
Stressing that the Serbian government conducts a responsible policy, the Prime Minister confirmed that our permanent commitment is cooperation with all international factors, taking into account the state and national interests. She assessed that the level and content of the cooperation to date represent a good basis for further joint work.
Brnabic and Gottemoeller agreed that Serbia and NATO are strongly linked by a common interest in preserving peace and stability in the region of the Western Balkans.
Source: www.srbija.gov.rs