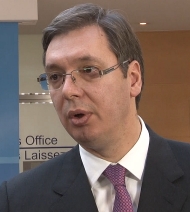 Brussels, 23 Nov 2016 – Prime Minister Aleksandar Vucic said in Brussels after meeting with the Council of NATO, our country wants to promote good cooperation with the Alliance in a variety of fields – from peacekeeping, fighting terrorism, migrant crisis, to joint trainings.
After a meeting with NATO Secretary-General Jens Stoltenberg at the Alliance's Brussels headquarters, he thanked Stoltenberg for respecting the decision of Serbia and its parliament to keep the country militarily neutral.
NATO is one of the first partners of our country when it comes to maintaining peace, stability and economic progress, he said and noted that during the meeting with the North Atlantic Council of NATO he stressed that Serbia is on its European path, but that it wants to have good relations to the Russian Federation and that it wants to promote good cooperation with the Alliance.
We talked about how to maintain peace and stability, because the citizens of Serbia should know that we are surrounded by countries of the North Atlantic Alliance and that it was one of the first partners with whom we should work together if we want to have peace, full stability and to develop our economy at free way, the prime minister noted.
Vucic said that during the talks at the headquarters of NATO an agreement was reached on organizing civilian trainings in emergency situations in 2018.
The Prime Minister expressed his gratitude to the members of KFOR on the fact that a Serbian boy from the village of Laplje was transported to Belgrade, pointing out that, according to the latest information, the general situation of the boy is improving.
Source: www.srbija.gov.rs