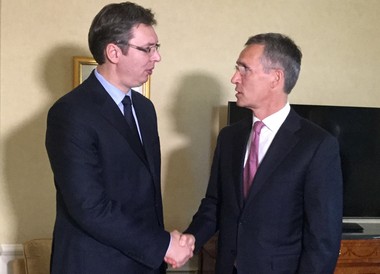 New York, 22 Sept 2016 – Prime Minister Aleksandar Vucic met today in New York with NATO Secretary General Jens Stoltenberg, with whom he discussed the situation in the region, cooperation between Serbia and NATO within the Partnership for Peace, as well as the forthcoming visit of Prime Minister Vucic to the NATO headquarters in Brussels, planned for 23 November this year.
Prime Minister Vucic reiterated the commitment of Serbia to be militarily neutral and also thanked Secretary General Stoltenberg on all the efforts he is making so that Serbia and NATO have a fair partnership. He informed the Secretary General about the situation in the region and stressed that Serbia is doing everything to make the newly created tensions reduce.
Secretary General Stoltenberg said that Serbia is a good partner and highlighted the importance of constructive relations for the stability of the entire region, with respect for Serbia's position on military neutrality.
Source: www.srbija.gov.rs