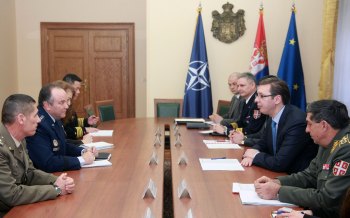 Belgrade, 5 Feb 2016 – Prime Minister Aleksandar Vucic expressed satisfaction today during the talks with the Supreme Allied Commander of the NATO for Europe, General Philip Breedlove, with good cooperation with KFOR, the international peacekeeping force in Kosovo-Metohija.
Vucic underlined that KFOR has a crucial role in the protection of the Serbian people in Kosovo-Metohija, as a guarantor of its security and preservation of stability in the region.
The Prime Minister voiced hope that cooperation of the Serbian government with the NATO, as part of the Partnership for Peace programme, will be improved with the aim of further capacity building for contribution to international peace and stability.
General Breedlove confirmed that KFOR will continue to responsibly fulfil its obligation of preserving security in Kosovo-Metohija.
He added that there are many possibilities to improve cooperation of the NATO with the Serbian Army, which he described as very professional.
General Breedlove thanked Prime Minister Vucic on his efforts in helping to maintain stability in the Western Balkans as a precondition for economic and every other progress.
Source: www.srbija.gov.rs