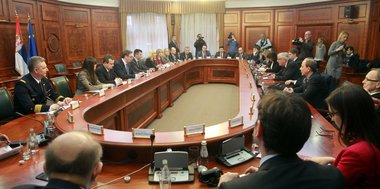 Belgrade, 9 March 2016 – Prime Minister Aleksandar Vucic reiterated today at a meeting with a delegation of the Committee on the Civil Dimension of Security of the NATO Parliamentary Assembly that Serbia is a militarily neutral country, and that we will not change our position.
He expressed his gratitude for the role that KFOR has as a guarantor of security of the Serbian people in Kosovo-Metohija. He presented the delegation of the Committee, headed by Vice President of the Parliamentary Assembly of NATO Lord Thomas Michael Jopling, the current situation and the priorities of Serbia in the field of interior, foreign and security policy.
The Prime Minister said that Serbia remains committed to its foreign policy goal, which is full membership in the European Union, as well as the implementation of economic and social reforms. Vucic said that the participation of a delegation of the National Assembly of the Republic of Serbia at the annual sessions of the NATO Parliamentary Assembly as an associate member contributes to mutual understanding and trust. He also expressed satisfaction with the strengthening of cooperation.
Members of the Committee on the Civil Dimension of Security praised and supported the efforts of Serbia to invest in preserving the stability of the Western Balkans. They also expressed support for Serbia's European integration.
Source: www.srbija.gov.rs