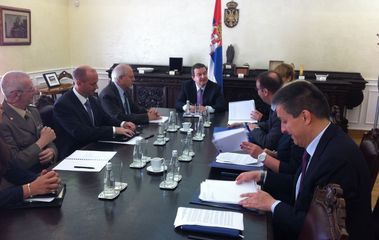 Belgrade, 4 June 2015 – First Deputy Prime Minister and Minister of Foreign Affairs Ivica Dacic met with NATO Assistant Secretary-General for Political Affairs and Security Policy Thrasyvoulos Terry Stamatopoulos, who is visiting Serbia at the invitation of Acting Assistant Minister for Security Policy.
The officials discussed issues of improving cooperation between Serbia and NATO through the Partnership for Peace (PfP), the implementation of the Individual Partnership Action Plan (IPAP) between Serbia and NATO, as well as the current security situation in the region and in Kosovo-Metohija.
Dacic said that the adoption of the IPAP is the most significant qualitative step in the relations between Serbia and NATO since Serbia joined the Partnership for Peace, and that our country is very committed to its implementation. He pointed out that Serbia remains military neutral, but that it recognises the considerable scope for further improvement of the partnership cooperation within the Partnership for Peace, and that it has an important role in safeguarding regional security and stability.
The First Deputy Prime Minister spoke about the very good cooperation with KFOR and argued for its unrelenting presence in the province, and emphasised the importance of the role of NATO/KFOR as a guarantor of security and the implementation of the Brussels agreement.
Source: www.srbija.gov.rs